Hyde & Company's character trait for reflection during November is RESPECT.
The first thing that comes to your mind when you hear the word Respect. Go! .... It's the Aretha Franklin song, right?! I think most of us begin humming, or, start quietly singing the words to this song in our heads. But do we really LISTEN to the lyrics? One one hand, it's an energetic, catchy pop song. On the other hand, there was a huge political movement on the rise when she released the song in 1967. The literal interpretation of the song was: the voice of a strong, african american women demanding respect and showing her power during a time when such a person of those traits had very little of it.
We all want respect - so how do we get it? "When you look at people and consider their worth as human beings, it enourages you to treat them with deceny and dignity" - Character Core magazine. We all desire dignity, but in order to receive it we must dish it out as well (as the ol' golden rule goes 'treat others the way YOU would like to be treated). These are all choices we have to make as inviduals or we will never grow together! Here's more choices we should make to exemply the word RESPECT (via Character Core).
1. LOOK BEYOND APPEARANCES
Recognize each person's uniqueness and worth as a human being.
How does it make you feel when someone thinks (or you feel like someone thinks) they're better than you?
Who are some people in your life who are "more than they appear"?
2. RESPECT DIFFERENCES
Diversity in background, culture, ethnicity, etc., allows team members to see opportunities others might overlook.
How can having a diverse team helps you to identify new ways of doing things? And, in what ways would trying new things help you personally and professionally?
3. SHOW YOUR APPRECIATION
Show kindness because you care about others, not because you want something in return.
How can kindness help build relationships?
How can a culture of unkindness or rudeness impact the atmosphere at work and how you get along with others on your team or in your organization?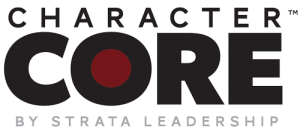 The information above was provided by Strata Leadership. Visit their website to learn more about their development program for businesses used for building teamwork, improving communication, and developing leaders.